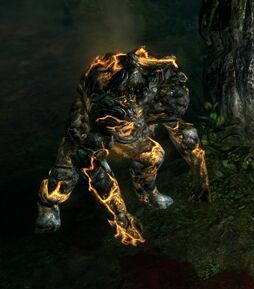 The Ancient Shambler is a unique boss creature located in The Flooded Passage. Killing it is necessary to acces the Burrwitch Outskirts.
Family: Eldritch
Genus: Shambler
Abilities
Edit
Final Ground Breaker
Ground Breaker
Rock Smash
Avalanche
Petrifying Rock
Resistance
Edit
20% Fire Resistance
50% Reduced Freeze Duration
500% Reduced Knockdown Duration
500% Reduced Petrify Duration
30% Pierce Resistance
30% Poison & Acid Resistance
30% Reduced Stun Duration
90% Reduced Entrapment Duration
Community content is available under
CC-BY-SA
unless otherwise noted.