Baldir's Plate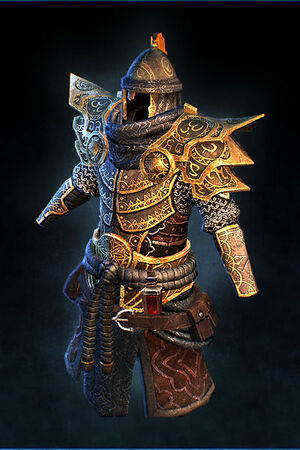 ""Baldir stood as a paragon of virtue and Erulan faith. He swore an oath on the steps of the emperor's palace to defend the helpless and the meek from the evils of the world. That oath was never broken.""
Baldir's Plate is a level 65 Epic Item Set, designed to support a Soldier/Oathkeeper Blade Arc build.
This set has a level 82 Mythical version, Baldir's Regalia.
1/3
none
2/3
+50% Physical Damage
+50% Bleeding Damage with +33% Increased Duration
3/3
+3 to Judgment
+3 to Blade Arc

Granted Skills

Spill their Blood (10% Chance on Attack)
Spill the blood of the heathens that dare stand in your way.
1.4 Second Skill Recharge
3.5 Meter Radius
100-145 Physical Damage
300 Bleeding Damage over 3 Seconds
+33% Crit Damage
Constellations
Tier 1

Anvil • Empty Throne • Falcon • Hammer • Harpy • Owl • Shepherd's Crook • Toad • Wolverine

Fiend • Ghoul • Jackal • Rat • Viper • Vulture • Wretch

Akeron's Scorpion • Bat • Eye of the Guardian • Fox • Hawk • Quill • Raven • Scholar's Light • Spider

Assassin's Blade • Crane • Dryad • Lion • Panther • Stag • Tortoise

Bull • Eel • Gallows • Hound • Imp • Lizard • Sailor's Guide • Tsunami • Wraith
Tier 2
Affliction • Alladrah's Phoenix • Amatok the Spirit of Winter • Assassin • Autumn Boar • Bard's Harp • Behemoth • Berserker • Blades of Nadaan • Bysmiel's Bonds • Chariot of the Dead • Crab • Dire Bear • Harvestman's Scythe • Huntress • Hydra • Kraken • Magi • Manticore • Messenger of War • Murmur, Mistress of Rumors • Oklaine's Lantern • Revenant • Rhowan's Crown • Rhowan's Scepter • Scales of Ulcama • Shieldmaiden • Solael's Witchblade • Solemn Watcher • Staff of Rattosh • Targo the Builder • Tempest • Typhos, the Jailor of Souls • Ulo the Keeper of the Waters • Wendigo • Widow
Tier 3
Abomination • Aeon's Hourglass • Attak Seru, the Mirage • Blind Sage • Crossroads • Devotion • Dying God • Ishtak, the Spring Maiden • Leviathan • Light of Empyrion • Mogdrogen the Wolf • Obelisk of Menhir • Oleron • Rattosh, the Veilwarden • Spear of the Heavens • Tree of Life • Ulzuin's Torch • Ultos, Shepherd of Storms • Unknown Soldier • Vire, the Stone Matron