Blacksmith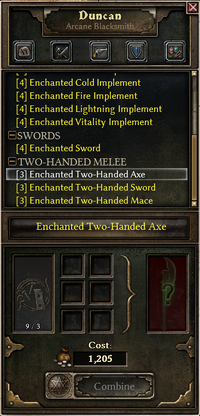 Blacksmiths are the most important part of the Crafting system in Grim Dawn, and can initially be unlocked by completing the Tale of Two Blacksmiths quest in Act 1 (other blacksmiths are available in later acts). Once a blacksmith is unlocked, blueprints and recipes can be used to craft new items.
Blacksmiths also have a repertoire of items that can be crafted immediately, without the need for recipes or blueprints. These include relics, difficult to acquire components, and random weapons, armor and accessories. When instructed by the player, a blacksmith will craft an item appropriate to the player's level of at least Magical quality, with random affixes plus a bonus property.
Many also offer unique services, such as crafting Dynamite, crafting materials or random Legendary items.
During the quest Tale of Two Blacksmiths, the player must choose to invite either Duncan or Angrim back to Devil's Crossing. Each can apply different bonus stats to the equipment he crafts, and also offer differing exclusive low-level Rare items for crafting. This makes the choice meaningful and relevant to the build and class of the player; generally speaking, Angrim caters to melee and ranged characters, while Duncan benefits casters. Most online posts indicate Angrim is usually considered the better choice for most characters.
Name
Crafting bonuses
Exclusive items
Angrim - Forgemaster

3-7% Pierce Resistance
Increases Armor Protection by 2-4%
+2-4% Physique

Duncan - Arcane Blacksmith

Increases Energy Regeneration by 8-16%
+4-12 Defensive Ability
+2-4% Physique
Ashes of Malmouth blacksmiths
[
edit
|
edit source
]
Forgotten Gods blacksmiths
[
edit
|
edit source
]
Constellations
Tier 1

Anvil • Empty Throne • Falcon • Hammer • Harpy • Owl • Shepherd's Crook • Toad • Wolverine

Fiend • Ghoul • Jackal • Rat • Viper • Vulture • Wretch

Akeron's Scorpion • Bat • Eye of the Guardian • Fox • Hawk • Quill • Raven • Scholar's Light • Spider

Assassin's Blade • Crane • Dryad • Lion • Panther • Stag • Tortoise

Bull • Eel • Gallows • Hound • Imp • Lizard • Sailor's Guide • Tsunami • Wraith
Tier 2
Affliction • Alladrah's Phoenix • Amatok the Spirit of Winter • Assassin • Autumn Boar • Bard's Harp • Behemoth • Berserker • Blades of Nadaan • Bysmiel's Bonds • Chariot of the Dead • Crab • Dire Bear • Harvestman's Scythe • Huntress • Hydra • Kraken • Magi • Manticore • Messenger of War • Murmur, Mistress of Rumors • Oklaine's Lantern • Revenant • Rhowan's Crown • Rhowan's Scepter • Scales of Ulcama • Shieldmaiden • Solael's Witchblade • Solemn Watcher • Staff of Rattosh • Targo the Builder • Tempest • Typhos, the Jailor of Souls • Ulo the Keeper of the Waters • Wendigo • Widow
Tier 3
Abomination • Aeon's Hourglass • Attak Seru, the Mirage • Blind Sage • Crossroads • Devotion • Dying God • Ishtak, the Spring Maiden • Leviathan • Light of Empyrion • Mogdrogen the Wolf • Obelisk of Menhir • Oleron • Rattosh, the Veilwarden • Spear of the Heavens • Tree of Life • Ulzuin's Torch • Ultos, Shepherd of Storms • Unknown Soldier • Vire, the Stone Matron