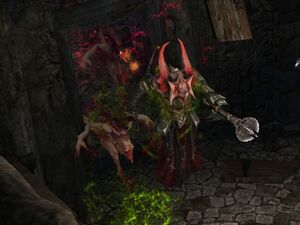 For the enemy faction, see Chthonians.
Ch'thonic creatures are a monster class in Grim Dawn. They are otherworldly in origin and are essentially demonic entities.
Variants
Chthonian
Chthonian Harbinger
Chthonian Bloodletter
Chthonian Blightbringer
Charn'Daroth
Elnar'Daroth
Fos'Daroth
Ordran'Daroth
Pulv'Daroth
Maga'Lugal ~ Defender
Sharanatu ~ Shielded
Chthonian Fiend
Void Fiend
Void Anomaly
Void Abomination
Innugaru, Horror of the Void
Hiln'Raz, the Dark Omen
Sen'Thel Voidbringer
Nii'Thel ~ Bruiser
Gurgoth'Siin ~ Burning
Chthonian Devourer
Chthonian Hungerer
Chthonian Devourer
Chthonian Gorger
Nur'Garu, Jaws of Oblivion
Sargo'Din, the Hunering Maw
Narl'Maash, the Engorged
Nye'Kazul, the Maw of Fire
Waban'Ak, the Sparkmaw
Obsidian Defiler
Obsidian Shaleborn
Obsidian Ravager
Obsidius, the Titan
Ch'thallis, the Usurper
Kelphat'Idoth ~ Electrified
Orudin'Idoth ~ Frozen
Drygol'Ukog ~ Charger
Bosses
Loghorrean,the Voice of Ch`thon
Salazar, blade of ch'thon
Community content is available under
CC-BY-SA
unless otherwise noted.