Fire Emblem Warriors: Three Hopes - The Loop
Play Sound
Deadman's Gulch is a small Act 3 area. It has a Riftgate and connects to Smuggler's Pass and the Mountain Deeps.
To the east can be found a gully full of Aetherfire. Halfway along the gully there is a trail branching off to a small side area with several Manticores. It terminates in a mine entrance leading to The Immolation, which is unlocked during the Legion Retribution Act 4 side-quest.
Interests
[
]
Mine Entrance - Sealed by the Black Legion.
Quests
[
]
NPCs
[
]
Beatrice Summers

Rob Halloway

Tricia Windborough

Taris Windborough

Emily Larkson
Creatures
[
]
Mistborn Brute
Mistborn Hunter
Mistborn Warrior
Mistborn Elder
Stonewart Troll
Manticore Whitemane
Manticore Wastestalker
Gallery
[
]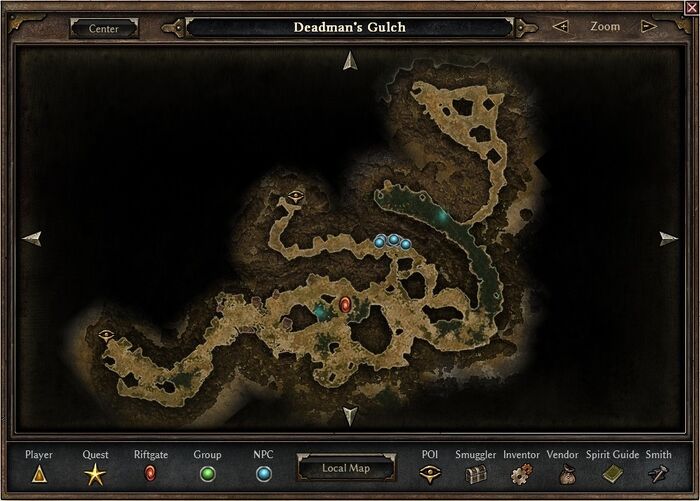 Constellations
Tier 1

Anvil • Empty Throne • Falcon • Hammer • Harpy • Owl • Shepherd's Crook • Toad • Wolverine

Fiend • Ghoul • Jackal • Rat • Viper • Vulture • Wretch

Akeron's Scorpion • Bat • Eye of the Guardian • Fox • Hawk • Quill • Raven • Scholar's Light • Spider

Assassin's Blade • Crane • Dryad • Lion • Panther • Stag • Tortoise

Bull • Eel • Gallows • Hound • Imp • Lizard • Sailor's Guide • Tsunami • Wraith
Tier 2
Affliction • Alladrah's Phoenix • Amatok the Spirit of Winter • Assassin • Autumn Boar • Bard's Harp • Behemoth • Berserker • Blades of Nadaan • Bysmiel's Bonds • Chariot of the Dead • Crab • Dire Bear • Harvestman's Scythe • Huntress • Hydra • Kraken • Magi • Manticore • Messenger of War • Murmur, Mistress of Rumors • Oklaine's Lantern • Revenant • Rhowan's Crown • Rhowan's Scepter • Scales of Ulcama • Shieldmaiden • Solael's Witchblade • Solemn Watcher • Staff of Rattosh • Targo the Builder • Tempest • Typhos, the Jailor of Souls • Ulo the Keeper of the Waters • Wendigo • Widow
Tier 3
Abomination • Aeon's Hourglass • Attak Seru, the Mirage • Blind Sage • Crossroads • Devotion • Dying God • Ishtak, the Spring Maiden • Leviathan • Light of Empyrion • Mogdrogen the Wolf • Obelisk of Menhir • Oleron • Rattosh, the Veilwarden • Spear of the Heavens • Tree of Life • Ulzuin's Torch • Ultos, Shepherd of Storms • Unknown Soldier • Vire, the Stone Matron