Inquisitor
As members of the esteemed Luminari Order, Inquisitors were responsible for protecting the Erulan Empire from the dangers of the arcane and the occult. Over the centuries, the Inquisitors gathered together countless relics of unimaginable power, but duty sometimes overcomes safety, and some of these relics were studied and in turn replicated for use by the Inquisition. While they excel with ranged weapons, Inquisitors are armed with an arsenal of relics and arcane runes that allow them to be more than capable in close-quarters combat.
The Inquisitor Mastery is available with the Ashes of Malmouth Expansion Pack.
Trained by the secretive Luminari Order, inquisitors were officially sanctioned by the Erulan Emperor to hunt down and eliminate all eldritch and arcane threats to the empire. This dangerous and thankless duty necessitated some unconventional means of combat, including using the powers of their very enemies against them.
Chilling Rounds

---

01/10
This is a ranged technique that activates off default weapon attacks.


10%

Chance to be Used


50%

Weapon Damage


14

Piercing Damage


14

Cold Damage


60

Frostburn Damage over

3

Seconds
Freeze Target for

0.7

Seconds

---

10/10

22%

Chance to be Used


80%

Weapon Damage


41

Piercing Damage


41

Cold Damage


339

Frostburn Damage over

3

Seconds
Freeze Target for

0.7

Seconds

Storm Spread

---

01/10
This is a ranged technique that activates off default weapon attacks.


10%

Chance to be Used


3

Projectiles


28%

Weapon Damage


10

Piercing Damage


12-18

Lightning Damage


27

Electrocute Damage over

3

Seconds

---

10/10

22%

Chance to be Used


4

Projectiles


33%

Weapon Damage


28

Piercing Damage


21-36

Lightning Damage


108

Electrocute Damage over

3

Seconds

Word of Renewal

---

01/12

24

Energy Cost


15

Second Skill Recharge


30

Second Duration


20

Meter Radius


6% + 250

Health Restored


2%

Less Damage from Chthonics


2%

Less Damage from Eldritch


+15

Defensive Ability


+6%

Movement Speed

---

12/12

70

Energy Cost


18% + 850

Health Restored


10%

Less Damage from Chthonics


10%

Less Damage from Eldritch


+115

Defensive Ability


+18%

Movement Speed

Steel Resolve

---

01/10

+5

Energy Cost


4

Physical Damage


+5%

Physical Damage


+5%

Elemental Damage


+5%

Internal Trauma Damage


+3%

Damage to Chthonics


+3%

Damage to Eldritch


5%

Aether Resistance


5%

Chaos Resistance

---

10/10

+14

Energy Cost


22

Physical Damage


+50%

Physical Damage


+50%

Elemental Damage


+50%

Internal Trauma Damage


+12%

Damage to Chthonics


+12%

Damage to Eldritch


30%

Aether Resistance


30%

Chaos Resistance

Aura of Conviction

---

01/12
This ability must be toggled to maintaion its effect.


50

Energy Reserved


12

Meter Radius


8

Piercing Damage


+12%

Physical Damage


+12%

Pierce Damage


+25

Offensive Ability


3%

Physical Resistance


10%

Reduction in Burn Duration

---

12/12

160

Energy Reserved


30

Piercing Damage


+90%

Physical Damage


+90%

Pierce Damage


+146

Offensive Ability


15%

Physical Resistance


50%

Reduction in Burn Duration

Word of Agony

---

01/12

+2

Energy Cost


+1.5

Meter Target Area


4-9

Lightning Damage


+5%

Fire Damage


+5%

Cold Damage


10%

Chance for Impaired Aim to target for

1

Second
Increases Health Regeneration by

-10%

---

12/12

+15

Energy Cost


+9

Meter Target Area


40-86

Lightning Damage


+60%

Fire Damage


+60%

Cold Damage


30%

Chance for Impaired Aim to target for

1

Second
Increases Health Regeneration by

-33%

Horn of Gandarr

---

01/12

62

Energy Cost


4.5

Second Skill Recharge


4.5

Meter Radius


35%

Weapon Damage


204

Piercing Damage
Confuse target for

1.2 - 3.5

Seconds


2%

Reduced target's Damage for

5

Seconds

---

12/12

106

Energy Cost


10

Meter Radius


65%

Weapon Damage


380

Piercing Damage
Confuse target for

2.5 - 6

Seconds


20%

Reduced target's Damage for

5

Seconds

Endless Flame

---

01/12

+14%

Burn Damage with

+30%

Increased Duration


+14%

Electrocute Damage with

+30%

Increased Duration


8%

Chance for target to Fumble Attacks for

2

Seconds


-5%

Skill Energy Cost

---

12/12

+115%

Burn Damage with

+100%

Increased Duration


+115%

Electrocute Damage with

+100%

Increased Duration


25%

Chance for target to Fumble Attacks for

2

Seconds


-25%

Skill Energy Cost

Rune of Hagarrad

---

01/16

20 Energy Cost
4 Second Skill Recharge
1 Meter Radius
5 Summon Limit

Chillsurge Rune Attributes:
Lives for 30 Seconds

Chillsurge Rune Abilities:
Chilling Burst

5

Projectiles

100%

Chance to Pass through Enemies

0.1

Meter Radius

22

Piercing Damage

28

Cold Damage

---

16/16

76 Energy Cost

Chillsurge Rune Attributes:
Lives for 30 Seconds

Chillsurge Rune Abilities:
Chilling Burst

224

Piercing Damage

245

Cold Damage

Aura of Censure

---

01/12
This ability must be toggled to maintain its effect.


50

Energy Reserved


4.8

Meter Radius


13

Fire Damage


16

Burn Damage over

2

Seconds


8%

Chance of Disrupt target's skills for

1

Second


4%

Reduced target's Damage for

1

Second


-3%

Elemental Resistance

---

12/12

160

Energy Reserved


7

Meter Radius


74

Fire Damage


92

Burn Damage over

2

Seconds


20%

Chance of Disrupt target's skills for

1

Second


15%

Reduced target's Damage for

1

Second


-25%

Elemental Resistance

Inquisitor Seal

---

01/12

40 Energy Cost
5 Second Skill Recharge
3 Summon Limit

Arcane Seal Attributes:
Lives for 24 Seconds

Arcane Seal Abilities:
Barrier

3.8

Meter Radius

34

Damage Absorption
Increases Health Regeneration by

15%

5%

Elemental Resistance

Rebuke

3.8

Meter Radius

20-30

Fire Damage

+30%

Damage to Aetherials


+30%

Damage to Aetherial Corruptions

+30%

Damage to Chthonics

+30%

Damage to Eldritch

---

12/12

73 Energy Cost

Arcane Seal Attributes:
Lives for 12 Seconds

Arcane Seal Abilities:
Barrier

190

Damage Absorption
Increases Health Regeneration by

45%

30%

Elemental Resistance

Rebuke

141-195

Fire Damage

Rune of Kalastor

---

01/12

32 Energy Cost
4 Second Skill Recharge
1 Meter Radius
5 Summon Limit

Concussive Rune Attributes:
Lives for 30 Seconds

Concussive Rune Abilities:
Concussive Blast

4

Projectiles


2.4

Meter Radius

2-3

Fragments

30-40

Physical Damage

28

Fire Damage

20%

Chance to Knockdown target for

2.5

Seconds

---

12/12

65 Energy Cost

Concussive Rune Attributes:
Lives for 30 Seconds

Concussive Rune Abilities:
Concussive Blast

190-256

Physical Damage

211

Fire Damage

50%

Chance to Knockdown target for

2.5

Seconds

1
5
10
15
20
25
32
40
50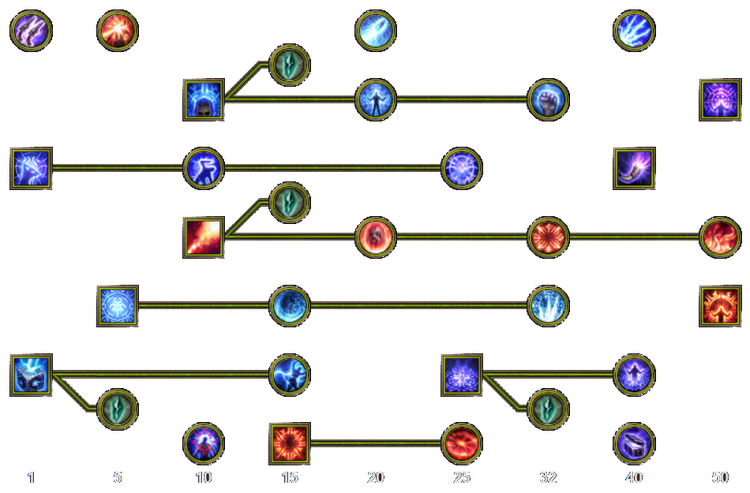 | | |
| --- | --- |
| | Rigorous training against the arcane and the occult. |
Each point invested in the Inquisitor skill mastery gives the following stat bonuses:
+2.5 Physique
+3.5 Spirit
+4 Cunning
+22 Health
+16 Energy
Combining the Inquisitor with another Mastery forms the following hybrid classes:
Constellations
Tier 1

Anvil • Empty Throne • Falcon • Hammer • Harpy • Owl • Shepherd's Crook • Toad • Wolverine

Fiend • Ghoul • Jackal • Rat • Viper • Vulture • Wretch

Akeron's Scorpion • Bat • Eye of the Guardian • Fox • Hawk • Quill • Raven • Scholar's Light • Spider

Assassin's Blade • Crane • Dryad • Lion • Panther • Stag • Tortoise

Bull • Eel • Gallows • Hound • Imp • Lizard • Sailor's Guide • Tsunami • Wraith
Tier 2
Affliction • Alladrah's Phoenix • Amatok the Spirit of Winter • Assassin • Autumn Boar • Bard's Harp • Behemoth • Berserker • Blades of Nadaan • Bysmiel's Bonds • Chariot of the Dead • Crab • Dire Bear • Harvestman's Scythe • Huntress • Hydra • Kraken • Magi • Manticore • Messenger of War • Murmur, Mistress of Rumors • Oklaine's Lantern • Revenant • Rhowan's Crown • Rhowan's Scepter • Scales of Ulcama • Shieldmaiden • Solael's Witchblade • Solemn Watcher • Staff of Rattosh • Targo the Builder • Tempest • Typhos, the Jailor of Souls • Ulo the Keeper of the Waters • Wendigo • Widow
Tier 3
Abomination • Aeon's Hourglass • Attak Seru, the Mirage • Blind Sage • Crossroads • Devotion • Dying God • Ishtak, the Spring Maiden • Leviathan • Light of Empyrion • Mogdrogen the Wolf • Obelisk of Menhir • Oleron • Rattosh, the Veilwarden • Spear of the Heavens • Tree of Life • Ulzuin's Torch • Ultos, Shepherd of Storms • Unknown Soldier • Vire, the Stone Matron