Raise a Floppa - The Loop
Play Sound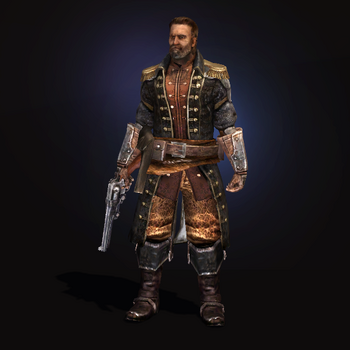 NPCs, or non-player characters, encompass the various, usually non-hostile characters one can encounter within Cairn, the world of Grim Dawn. Their function is to provide various services to the player or give quests, impart background information and lore, or merely serve to populate the world.
Service NPCs
[
]
Merchants are NPCs to who offer a wide selection of equipment for sale to the player, and will buy unwanted items. Merchant wares change periodically, so you never know what they will have to offer.
Some merchants can be found in hard to reach places and can offer specialty items not found at any other vendor.
Smugglers provide a means for the player to store items, either for later use, or to transfer to another character. Smugglers provide each character with a personal stash, as well as a shared stash, which can be accessed by any character. All Smugglers are interconnected, so an item deposited with one Smuggler can be accessed with others.
The Shared Stash can be upgraded with additional tabs of storage, at the cost of Iron Bits. These upgrades are unlocked across all of your characters.
Note that characters rolled in hardcore mode cannot access the shared stash of characters rolled in normal mode, and vice-versa.
Spirit Guides allow the player to reallocate Skill and Devotion points. There is a small fee, which becomes progressively more expensive the more points are refunded.
Note that you cannot unlearn a skill point invested in an active skill without first unlearning all points from passive skills which affect it. It is now possible to remove points from the Mastery bar, but you still cannot completely unlearn a mastery.
Inventors will take items with attached components and salvage either the item or the component. They are also capable of dismantling equipment and turning it into valuable scrap and components. The more powerful the item, the more powerful the components it can generate. This process requires dynamite.
The Blacksmith offers Crafting services. All equipment created by a Blacksmith is imbued with an additional property specific to the Blacksmith crafting it, making crafting an appealing way to acquire gear.
Illusionist
[
]
The Illusionist is available with the Ashes of Malmouth Expansion, and offers equipment transmogrification services. The Illusionist will re-skin equipment to look like any other item of the same category.
Other Characters
[
]
Act 1 NPCs
[
]
Act 2 NPCs
[
]
Act 3 NPCs
[
]
Constellations
Tier 1

Anvil • Empty Throne • Falcon • Hammer • Harpy • Owl • Shepherd's Crook • Toad • Wolverine

Fiend • Ghoul • Jackal • Rat • Viper • Vulture • Wretch

Akeron's Scorpion • Bat • Eye of the Guardian • Fox • Hawk • Quill • Raven • Scholar's Light • Spider

Assassin's Blade • Crane • Dryad • Lion • Panther • Stag • Tortoise

Bull • Eel • Gallows • Hound • Imp • Lizard • Sailor's Guide • Tsunami • Wraith
Tier 2
Affliction • Alladrah's Phoenix • Amatok the Spirit of Winter • Assassin • Autumn Boar • Bard's Harp • Behemoth • Berserker • Blades of Nadaan • Bysmiel's Bonds • Chariot of the Dead • Crab • Dire Bear • Harvestman's Scythe • Huntress • Hydra • Kraken • Magi • Manticore • Messenger of War • Murmur, Mistress of Rumors • Oklaine's Lantern • Revenant • Rhowan's Crown • Rhowan's Scepter • Scales of Ulcama • Shieldmaiden • Solael's Witchblade • Solemn Watcher • Staff of Rattosh • Targo the Builder • Tempest • Typhos, the Jailor of Souls • Ulo the Keeper of the Waters • Wendigo • Widow
Tier 3
Abomination • Aeon's Hourglass • Attak Seru, the Mirage • Blind Sage • Crossroads • Devotion • Dying God • Ishtak, the Spring Maiden • Leviathan • Light of Empyrion • Mogdrogen the Wolf • Obelisk of Menhir • Oleron • Rattosh, the Veilwarden • Spear of the Heavens • Tree of Life • Ulzuin's Torch • Ultos, Shepherd of Storms • Unknown Soldier • Vire, the Stone Matron