Necromancer

Though most modern Necromancers hail from the Order of Death's Vigil and the training of the mysterious Uroboruuk, not all choose the secluded life. While their profession naturally inspires fear and revulsion, the Necromancers of Cairn seek balance through research and mastery over the ultimate fate that awaits all mortals: death. Necromancers make heavy use of conjuring forth skeletal minions and sapping the very vitality from their unwary foes, though entering the fray themselves with martial weapons is not unheard of.
The Necromancer Mastery is available with the Ashes of Malmouth Expansion Pack.
Although they primarily engage in the weaving of magic, necromancers are aptly equipped to enter the fray in close quarters, or to weave their death magic into ranged weaponry. Do not for a moment think that a cornered necromancer is easy prey.
Reaping Strike

---

01/10
Can activate with all default weapon attacks.


12%

Chance to be Used


110%

Weapon Damage


17

Vitality Damage


15

Aether Damage


15%

of Attack Damage Converted to Health


6

Energy Leech over

2

Seconds

---

10/10

25%

Chance to be Used


136%

Weapon Damage


76

Vitality Damage


65

Aether Damage


36%

of Attack Damage Converted to Health


54

Energy Leech over

2

Seconds

Necrotic Edge

---

01/12
Can activate with all default weapon attacks. When used with a melee weapon, the attack strikes multiple nearby targets.


12%

Chance to be Used


180

Degree Attack Arc


2

Target Maximum


110%

Weapon Damage


17

Cold Damage


45

Vitality Decay over

3

Seconds


30%

Chance to Confuse target for

1.5

Seconds

---

12/12

26%

Chance to be Used


5

Target Maximum


140%

Weapon Damage


92

Cold Damage


411

Vitality Decay over

3

Seconds


100%

Chance to Confuse target for

1.5

Seconds

Decomposition

---

01/12

+4.2

Energy Cost per Second


10

Vitality Damage


+10%

Vitality Decay with

+30%

Increased Duration


25

Reduced target's Offensive Ability for

3

Seconds

---

12/12

+20.8

Energy Cost per Second


102

Vitality Damage


+120%

Vitality Decay with

+100%

Increased Duration


135

Reduced target's Offensive Ability for

3

Seconds

Harbinger of Souls

---

01/12
Exclusive Skill - only one Exclusive Skill can be active at any one time.


5

Vitality Damage


3%

of Attack Damage converted to Health


30

Vitality Decay over

3

Seconds


+25%

Vitality Damage


+25%

Aether Damage


+25%

Vitality Decay with

+6%

Increased Duration


15%

Physical Damage converted to Vitality Damage


+3%

Attack Speed


+3%

Casting Speed

---

12/12

21

Vitality Damage


10%

of Attack Damage converted to Health


129

Vitality Decay over

3

Seconds


+135%

Vitality Damage


+135%

Aether Damage


+135%

Vitality Decay with

+50%

Increased Duration


+14%

Attack Speed


+14%

Casting Speed

Foul Eruption

---

01/12

100%

Chance of Activating


2.5

Meter Radius


35

Vitality Damage


35

Aether Damage


10%

Reduction to Enemy's Health


3

Reduced target's Resistances for

5

Seconds

---

12/12

3

Meter Radius


133

Vitality Damage


133

Aether Damage


28%

Reduction to Enemy's Health


25

Reduced target's Resistances for

5

Seconds

Bone Harvest

---

01/16

26

Energy Cost


3

Second Skill Recharge


7

Meter Range


115%

Weapon Damage


10

Piercing Damage


18

Cold Damage


18

Vitality Damage


8%

Slower target Movement for

3

Seconds

---

16/16

86

Energy Cost


270%

Weapon Damage


115

Piercing Damage


204

Cold Damage


204

Vitality Damage


45%

Slower target Movement for

3

Seconds

Dread

---

01/12

+3

Energy Cost


+2

Meter Range


90

Vitality Decay over

3

Seconds


+8%

Pierce Damage


+8%

Cold Damage


+8%

Vitality Damage


10%

Chance of Terrify target for

2

Seconds

---

12/12

+8

Energy Cost


756

Vitality Decay over

3

Seconds


+96%

Pierce Damage


+96%

Cold Damage


+96%

Vitality Damage


35%

Chance of Terrify target for

2

Seconds

Soul Harvest

---

01/12
This ability must be toggled to maintain its effect.

5 Second Duration
9 Cold Damage
14 Vitality Damage
+10% Cold Damage
+10% Vitality Damage
+10% Vitality Decay

Bonus to All Pets
6 Vitality Damage
+10% to All Damage

---

12/12

64 Cold Damage
76 Vitality Damage
+65% Cold Damage
+65% Vitality Damage
+65% Vitality Decay

Bonus to All Pets
28 Vitality Damage
+65% to All Damage

Reap Spirit

---

01/16

90 Energy Cost
3.5 Second Skill Recharge
100% Weapon Damage
100-154 Aether Damage
Vitality Decay over 5 Seconds
1 Summon Limit

Sundered Wraith Attributes:
Lives for 18 Seconds
7448 Health
2737 Energy

Sundered Wraith Abilities:
Wraith's Touch

44

Cold Damage

37-50

Vitality Damage

---

16/16

96 Energy Cost
110% Weapon Damage
123-184 Aether Damage
555 Vitality Decay over 5 Seconds
1 Summon Limit

Sundered Wraith Attributes:
13034 Health
2737 Energy

Sundered Wraith Abilities:
+100% to All Damage
+33% Crit Damage
+75% Health
Increases Energy Regeneration by 150%
Wraith's Touch

56

Cold Damage

46-64

Vitality Damage

Raise Skeletons

---

01/16

80 Energy Cost
18 Second Skill Recharge
Summons 3
3 Summon Limit

Skeletal Warrior Attributes:
4275 Health
2737 Energy

Skeletal Warrior Abilities:
Ancient Weapons

7-9

Physical Damage

4

Vitality Damage

---

16/16

200 Energy Cost
Second Skill Recharge
Summons 3
3 Summon Limit

Skeletal Warrior Attributes:
7841 Health
2737 Energy

Skeletal Warrior Abilities:
+100% to All Damage
+75% Health
Increases Energy Regeneration by 10%
Ancient Weapons

60-76

Physical Damage

20

Vitality Damage

Ill Omen

---

01/10

35

Energy Cost


5

Second Skill Recharge


3

Second Duration


2

Meter Radius


5

Cold Damage


2

Vitality Decay per Second
Confuse target for

2

Seconds


4%

Reduced target's Damage for

1

Second


-15%

Movement Speed

---

10/10

75

Energy Cost


5

Second Duration


41

Cold Damage


61

Vitality Decay per Second


25%

Reduced target's Damage for

1

Second


-30%

Movement Speed

Summon Blight Fiend

---

01/16

150 Energy Cost
18 Second Skill Recharge
1 Summon Limit

Blight Beast Attributes:
x Health
x Energy

Blight Beast Abilities:
+0% to All Damage
+0% Crit Damage
+0% Health
Increases Energy Regeneration by 0%
Blighted Claws

23-33

Physical Damage

40

Poison Damage over

5

Seconds

Virulent Death

5

Second Duration

3.2

Meter Radius

35

Acid Damage

90

Poison Damage over 5

5

Seconds

---

16/16

225 Energy Cost

Blight Beast Attributes:
x Health
x Energy

Blight Beast Abilities:
+100% to All Damage
+33% Crit Damage
+75% Health
Increases Energy Regeneration by 150%
Blighted Claws

202-286

Physical Damage

750

Poison Damage over

5

Seconds

Virulent Death

230

Acid Damage

114

Poison Damage over 5

5

Seconds

Rotting Fumes

---

01/12

+2.5

Meter Radius


44

Poison Damage over

2

Seconds
Generate Additional Threat


25

Reduced target's Defensive Ability for

2

Seconds


15%

Chance for target to Fumble Attacks for

2

Seconds


15%

Chance of Impaired Aim to target for

2

Seconds

---

12/12

+3.6

Meter Radius


360

Poison Damage over

2

Seconds


212

Reduced target's Defensive Ability for

2

Seconds

Blight Burst

---

01/12

+27

Energy Cost


10

Meter Radius


14%

Basic Pet Attack Damage


114-132

Acid Damage


60

Vitality Damage


150

Poison Damage over

5

Seconds
Generate Additional Threat
Confuse target for

2

Seconds

---

12/12

+60

Energy Cost


36%

Basic Pet Attack Damage


300-394

Acid Damage


168

Vitality Damage


625

Poison Damage over

5

Seconds

Master of Death

---

01/12
This ability must be toggled to maintain its efect.


+8 Defensive Ability
+1% Offensive Ability
2% Vitality Resistance

Bonus to All Pets
+6% to All Damage
+5% Acid Damage
+5% Vitality Damage
+5% Poison Damage
25% Physical Damage converted to Vitality Damage
+1% Offensive Ability
2% Vitality Resistance

---

12/12

+75 Defensive Ability
+9% Offensive Ability
25% Vitality Resistance

Bonus to All Pets
+50% to All Damage
+60% Acid Damage
+60% Vitality Damage
+60% Poison Damage
50% Physical Damage converted to Vitality Damage
+12% Offensive Ability
25% Vitality Resistance

Spectral Binding

---

01/12
This ability must be toggled to maintain its efect.


0.8

Active Energy Cost per Second


25

Energy Reserved


4

Aether Damage


+8%

Aether Damage


+80

Health


+10

Offensive Ability

---

12/12

1.4

Active Energy Cost per Second


80

Energy Reserved


37

Aether Damage


+85%

Aether Damage


+1175

Health


+88

Offensive Ability

Spectral Wrath

---

01/10

2.5

Second Skill Recharge


3

Second Duration


2

Meter Radius


5

Vitality Damage


5

Aether Damage


-5%

Attack Speed


-3%

Physical Resistance


-3%

Vitality Resistance


-3%

Aether Resistance

---

10/10

1.5

Second Skill Recharge


5

Second Duration


4

Meter Radius


44

Vitality Damage


60

Aether Damage


-18%

Attack Speed


-25%

Physical Resistance


-25%

Vitality Resistance


-25%

Aether Resistance

Call of the Grave

---

01/10

36 Energy Cost
24 Second Skill Recharge
10 Second Duration
+3% Crit Damage
+22% Acid Damage
+22% Vitality Damage
+22% Poison Damage
+22% Vitality Decay

Bonus to All Pets:
+46% to All Damage
+5% Crit Damage

---

10/10

72 Energy Cost
+15% Crit Damage
+115% Acid Damage
+115% Vitality Damage
+115% Poison Damage
+115% Vitality Decay

Bonus to All Pets:
+190% to All Damage
+25% Crit Damage

1
5
10
15
20
25
32
40
50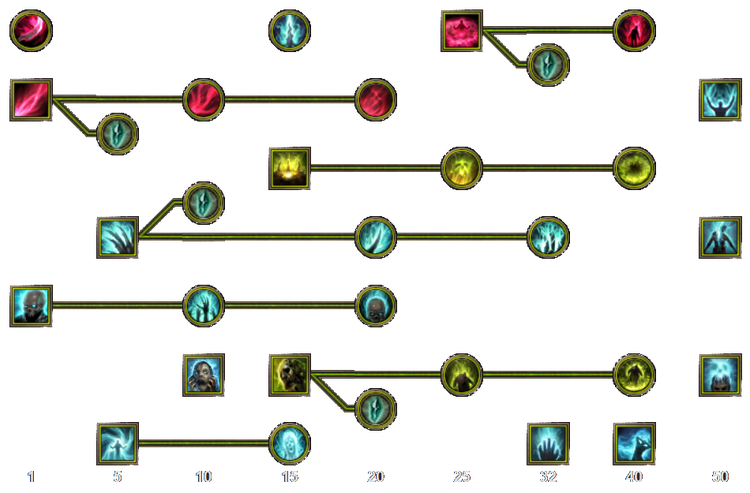 | | |
| --- | --- |
| | Mastery of the cruel fate that awaits all living beings. |
Each point invested in the Necromancer skill mastery gives the following stat bonuses:
+4 Physique
+4 Spirit
+2 Cunning
+19 Health
+19 Energy
Combining the Necromancer with another Mastery forms the following hybrid classes:
Constellations
Tier 1

Anvil • Empty Throne • Falcon • Hammer • Harpy • Owl • Shepherd's Crook • Toad • Wolverine

Fiend • Ghoul • Jackal • Rat • Viper • Vulture • Wretch

Akeron's Scorpion • Bat • Eye of the Guardian • Fox • Hawk • Quill • Raven • Scholar's Light • Spider

Assassin's Blade • Crane • Dryad • Lion • Panther • Stag • Tortoise

Bull • Eel • Gallows • Hound • Imp • Lizard • Sailor's Guide • Tsunami • Wraith
Tier 2
Affliction • Alladrah's Phoenix • Amatok the Spirit of Winter • Assassin • Autumn Boar • Bard's Harp • Behemoth • Berserker • Blades of Nadaan • Bysmiel's Bonds • Chariot of the Dead • Crab • Dire Bear • Harvestman's Scythe • Huntress • Hydra • Kraken • Magi • Manticore • Messenger of War • Murmur, Mistress of Rumors • Oklaine's Lantern • Revenant • Rhowan's Crown • Rhowan's Scepter • Scales of Ulcama • Shieldmaiden • Solael's Witchblade • Solemn Watcher • Staff of Rattosh • Targo the Builder • Tempest • Typhos, the Jailor of Souls • Ulo the Keeper of the Waters • Wendigo • Widow
Tier 3
Abomination • Aeon's Hourglass • Attak Seru, the Mirage • Blind Sage • Crossroads • Devotion • Dying God • Ishtak, the Spring Maiden • Leviathan • Light of Empyrion • Mogdrogen the Wolf • Obelisk of Menhir • Oleron • Rattosh, the Veilwarden • Spear of the Heavens • Tree of Life • Ulzuin's Torch • Ultos, Shepherd of Storms • Unknown Soldier • Vire, the Stone Matron