Oathkeeper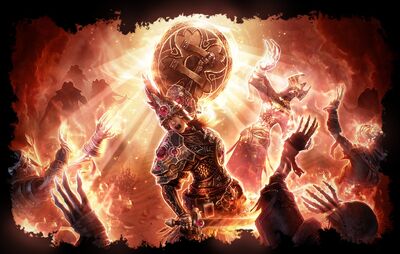 Whether they hail from the Temple of Menhir, or offer their souls to the Witch Gods, all Oathkeepers have two things in common: unflinching loyalty and zealous fury. Oathkeepers are the guardians of sacred tombs, keepers of the faithful and ardent enforcers of celestial will. They do not merely hide behind a shield or their divine powers; to Oathkeepers, these are weapons upon which they shall spill the blood of the unworthy and exact their righteous wrath.
The Oathkeeper is a Mastery for Grim Dawn, available with the Forgotten Gods Expansion. The new Mastery features Shield and Retaliation skills, with support for Acid & Poison damage through transmuters.
The role of Oathkeepers has existed for as long as the gods had influence upon the people of Cairn. Even in the far-off lands of the Korvan people, the Oathkeepers served under the command of the forgotten god and its priests. Their oaths resolute as steel, some remain as wraiths, bound to guard their devastated homelands.
While the world burns under the influence of the Aetherials and the Chthonians and the temples of old crumble, the Oathkeepers find themselves with renewed purpose. If the gods will not offer solace from the darkness, then the Oathkeepers will cut a swathe of carnage through the heathens in their name.
Driven by divine purpose and celestial fire in their hearts, Oathkeepers are a terror to the enemies of humanity. Their wills unbending, their faith their shield. None can withstand the righteous fury of a fully trained Oathkeeper.
Oathkeepers may be servants of divine forces, but such forces may not always hold humanity in high regard or be sanctioned by the fallen Erulan Empire. Some Oathkeepers serve dark and corrupted powers, others see salvation in the light of Empyrion; others still believe that the Witch Gods are the only true gods and through their blessing they become a force of change upon Cairn.
Smite

---

01/10

12%

Chance to be Used


100%

Chance to pass through Enemies


70

Degree Attack Arc


3

target Maximum


110%

Weapon Damage


18

Physical Damage


16

Fire Damage
Stun target for

0.7

Seconds


+5%

Damage to Undead


+5%

Damage to Chthonics

---

10/10

26%

Chance to be Used


136%

Weapon Damage


103

Physical Damage


94

Fire Damage


+26%

Damage to Undead


+26%

Damage to Chthonics

Shattering Smash

---

01/10

12%

Chance to be Used


8

Meter Range


65%

Weapon Damage


17

Physical Damage


125

Internal Trauma over

5

Seconds


4

Reduced target's Physical Resistance for

5

Seconds

---

10/10

26%

Chance to be Used


130%

Weapon Damage


80

Physical Damage


555

Internal Trauma over

5

Seconds


22

Reduced target's Physical Resistance for

5

Seconds

Vire's Might

---

01/16

22

Energy Cost


3.6

Second Skill Recharge


2

Meter Target Area


11

Meter Range


110%

Weapon Damage


20

Physical Damage


10

Piercing Damage


10

Internal Trauma over

2

Seconds
Generate Additional Threat


+250%

Movement Speed

---

16/16

82

Energy Cost


230%

Weapon Damage


230

Physical Damage


145

Piercing Damage


442

Internal Trauma over

2

Seconds

Aegis of Menhir

---

01/16

14

Energy Cost


2.5

Second Skill Recharge
Affects up to

1

targets


1

Projectile(s)


0.2

Meter Radius


120%

Weapon Damage


12

Physical Damage


12

Fire Damage
Stun target for

1.2

Seconds
Taunt target

---

16/16

54

Energy Cost


345%

Weapon Damage


252

Physical Damage


252

Fire Damage
Stun target for

3

Seconds

Summon Guardian of Empyrion

---

01/16

100 Energy Cost
2 Summon Limit

Servant of Empyrion Abilities:
Empyrion's Cleave

180

Degree Attack Arc

5

target Maximum

26-60

Physical Damage

15

Fire Damage

54

Burn Damage over

3

Seconds

---

16/16

160 Energy Cost

Servant of Empyrion Abilities:
Empyrion's Cleave

120-184

Physical Damage

154

Fire Damage

426

Burn Damage over

3

Seconds

Crushing Verdict

---

01/12

+4

Energy Cost


+10%

Physical Damage


+10%

Internal Trauma Damage


12%

Slower target Movement Speed for

3

Seconds


25

Reduced target's Defensive Ability for

5

Seconds

---

12/12

+15

Energy Cost


+108%

Physical Damage


+108%

Internal Trauma Damage


40%

Slower target Movement Speed for

3

Seconds


236

Reduced target's Defensive Ability for

5

Seconds

Divine Mandate

---

01/12
Exclusive Skill - Only one exclusive skill can be activated at any one time.


50

Internal Trauma over

5

Seconds


+8%

Crit Damage


+25%

Physical Damage


+25%

Fire Damage


+25%

Internal Trauma Damage with

+6%

increased Duration


+25%

Burn Damage


10%

Slow Resistance

---

12/12

160

Internal Trauma over

5

Seconds


+35%

Crit Damage


+135%

Physical Damage


+135%

Fire Damage


+135%

Internal Trauma Damage with

+50%

increased Duration


+135%

Burn Damage


25%

Slow Resistance

Righteous Fervor

---

01/16

1

Energy Cost


6

Charge Levels:

30%, 50%, 65%, 80% 90%, 100%




100%

Weapon Damage


6

Physical Damage


12

Burn Damage over

3

Seconds


+8%

Physical Damage


+8%

Burn Damage

---

16/16

7

Energy Cost


8

Charge Levels:

30%, 50%, 65%, 80% 90%, 100%, 108%, 115%




150%

Weapon Damage


46

Physical Damage


147

Burn Damage over

3

Seconds


+90%

Physical Damage


+90%

Burn Damage

Presence of Virtue

---

01/12

50

Energy Reserved


12

Meter Radius


100%

Chance for one of the following:
   

25

Internal Trauma over

5

Seconds
   

15

Bleeding Damage over

3

Seconds


+12

Offensive Ability


+0.8

Energy Regenerated per second


5

Physical Damage Retaliation

---

12/12

160

Energy Reserved


100%

Chance for one of the following:
   

245

Internal Trauma over

5

Seconds
   

147

Bleeding Damage over

3

Seconds


+133

Offensive Ability


+6.5

Energy Regenerated per second


110

Physical Damage Retaliation

Path of the Three

---

01/12
Exclusive Skill - Only one exclusive skill can be activated at any one time.


40

Poison Damage over

5

Seconds


+25%

Acid Damage


+25%

Vitality Damage


+25%

Poison Damage with

+6%

Increased Duration


+25%

Vitality Decay


15%

Physical Damage converted to Acid Damage


15%

Fire Damage converted to Acid Damage


1%

Skill Cooldown Reduction

---

12/12

150

Poison Damage over

5

Seconds


+135%

Acid Damage


+135%

Vitality Damage


+135%

Poison Damage with

+46%

Increased Duration


+135%

Vitality Decay


40%

Fire Damage converted to Acid Damage


10%

Skill Cooldown Reduction

Resilience

---

01/12
Activates when Health drops below

66%




15

Second Skill Recharge


5

Second Duration


+5%

Defensive Ability
Healing Effects Increased by

22%




5%

Physical Resistance


+3%

Maximum All Resistances

---

12/12

+12%

Defensive Ability
Healing Effects Increased by

33%




12%

Physical Resistance


+5%

Maximum All Resistances

Clarity of Purpose

---

01/12

+3

Energy Cost


+4%

Offensive Ability


100%

Life Leech Resistance


100%

Energy Leech Resistance


15%

Reduced Stun Duration


15%

Reduced Freeze Duration


15%

Reduced Petrify Duration


15%

Reduced Entrapment Duration

---

12/12

+25

Energy Cost


+15%

Offensive Ability


50%

Reduced Stun Duration


50%

Reduced Freeze Duration


50%

Reduced Petrify Duration


50%

Reduced Entrapment Duration

1
5
10
15
20
25
32
40
50
| | |
| --- | --- |
| | Zealous embodiment of celestial will. |
Each point invested in the Oathkeeper skill mastery gives the following stat bonuses:
+5 Physique
+2.5 Spirit
+2.5 Cunning
+25 Health
+13 Energy
Combining the Oathkeeper with another Mastery forms the following hybrid classes:
Constellations
Tier 1

Anvil • Empty Throne • Falcon • Hammer • Harpy • Owl • Shepherd's Crook • Toad • Wolverine

Fiend • Ghoul • Jackal • Rat • Viper • Vulture • Wretch

Akeron's Scorpion • Bat • Eye of the Guardian • Fox • Hawk • Quill • Raven • Scholar's Light • Spider

Assassin's Blade • Crane • Dryad • Lion • Panther • Stag • Tortoise

Bull • Eel • Gallows • Hound • Imp • Lizard • Sailor's Guide • Tsunami • Wraith
Tier 2
Affliction • Alladrah's Phoenix • Amatok the Spirit of Winter • Assassin • Autumn Boar • Bard's Harp • Behemoth • Berserker • Blades of Nadaan • Bysmiel's Bonds • Chariot of the Dead • Crab • Dire Bear • Harvestman's Scythe • Huntress • Hydra • Kraken • Magi • Manticore • Messenger of War • Murmur, Mistress of Rumors • Oklaine's Lantern • Revenant • Rhowan's Crown • Rhowan's Scepter • Scales of Ulcama • Shieldmaiden • Solael's Witchblade • Solemn Watcher • Staff of Rattosh • Targo the Builder • Tempest • Typhos, the Jailor of Souls • Ulo the Keeper of the Waters • Wendigo • Widow
Tier 3
Abomination • Aeon's Hourglass • Attak Seru, the Mirage • Blind Sage • Crossroads • Devotion • Dying God • Ishtak, the Spring Maiden • Leviathan • Light of Empyrion • Mogdrogen the Wolf • Obelisk of Menhir • Oleron • Rattosh, the Veilwarden • Spear of the Heavens • Tree of Life • Ulzuin's Torch • Ultos, Shepherd of Storms • Unknown Soldier • Vire, the Stone Matron