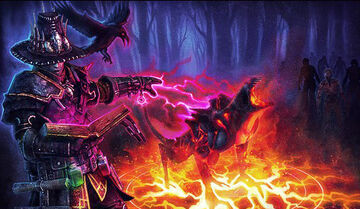 Occultists are masters of the eldritch powers, terrible and devastating. Occultists destroy their enemies with debilitating curses and forbidden magic. When that is not enough, they can summon powerful beings to aid them in battle. As with the Demolitionist, none of the Occultist skills are dependent on weapons, so you are not restricted to a ranged or melee build. Both are viable.
Once hunted by imperial forces in an effort to control eldritch power, the Occultist's craft focuses heavily on summoning and borrowed powers granted by the three witch "gods" Bysmiel, Solael and Dreeg. Their diverse arts include abhorrent curses and spells that inflict damage with poison, acid, and entropic energy. Excelling with neither sword or gun, they can use either to augment their offense.
Skill Tree
Edit
Occultist All Active Skills
Edit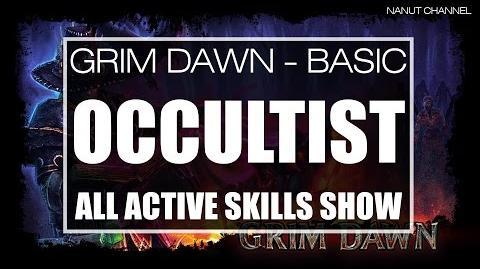 Mastery Progression
Edit
| | |
| --- | --- |
| | An in-depth study on the manipulation and control of the occult. |
Each point invested in the Occultist skill mastery gives the following stat bonuses:
+2.5 Physique
+4.5 Spirit
+3 Cunning
+20 Health
+18 Energy
Class Combinations
Edit
Combining the Occultist with another Mastery forms the following hybrid classes:
Conjurer (+ Shaman)
Pyromancer (+ Demolitionist)
Witchblade (+ Soldier)
Witch Hunter (+ Nightblade)
Warlock (+ Arcanist)
Community content is available under
CC-BY-SA
unless otherwise noted.