Raise a Floppa - The Loop
Play Sound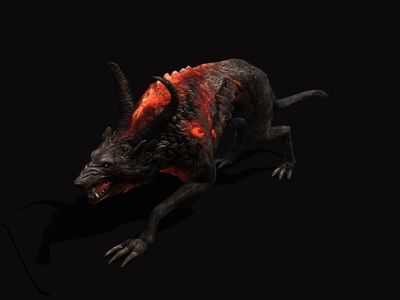 Pets are allied creatures summoned by the player to fight enemies. Pet stats and damage are increased by Bonus to All Pets affixes and stats, although base attributes (Health, Energy, etc) scale with player level.
Pets can be obtained from Mastery, Devotion and Item Skills, and can be permanent or have a temporary life span. Occultist, Shaman and Necromancer masteries all have pet skills. Cosmetic pets also exist in game, but only a total of 3 can be out at any time.
Some pets can be issued direct commands, such as to attack a specific target or to move to a specific location. These pets have their health status displayed in the upper left of the screen when summoned. Controllable pets have three stances: Normal, Defensive and Aggressive.
Normal Stance is the default used when a pet is summoned. It is a balance between the Defensive and Aggressive states.
Defensive Stance forces the pet to stay close to the player and causes it to attack anything that attacks the player.
Aggressive Stance allows the pet to roam and attack anything that comes within its line of sight. It will aggressively seek out targets, even ones that have not attacked the player.
A list of all available pets can be viewed below.
List of Pets
[
]
Permanent
[
]
Temporary
[
]
Cosmetic
[
]
Constellations
Tier 1

Anvil • Empty Throne • Falcon • Hammer • Harpy • Owl • Shepherd's Crook • Toad • Wolverine

Fiend • Ghoul • Jackal • Rat • Viper • Vulture • Wretch

Akeron's Scorpion • Bat • Eye of the Guardian • Fox • Hawk • Quill • Raven • Scholar's Light • Spider

Assassin's Blade • Crane • Dryad • Lion • Panther • Stag • Tortoise

Bull • Eel • Gallows • Hound • Imp • Lizard • Sailor's Guide • Tsunami • Wraith
Tier 2
Affliction • Alladrah's Phoenix • Amatok the Spirit of Winter • Assassin • Autumn Boar • Bard's Harp • Behemoth • Berserker • Blades of Nadaan • Bysmiel's Bonds • Chariot of the Dead • Crab • Dire Bear • Harvestman's Scythe • Huntress • Hydra • Kraken • Magi • Manticore • Messenger of War • Murmur, Mistress of Rumors • Oklaine's Lantern • Revenant • Rhowan's Crown • Rhowan's Scepter • Scales of Ulcama • Shieldmaiden • Solael's Witchblade • Solemn Watcher • Staff of Rattosh • Targo the Builder • Tempest • Typhos, the Jailor of Souls • Ulo the Keeper of the Waters • Wendigo • Widow
Tier 3
Abomination • Aeon's Hourglass • Attak Seru, the Mirage • Blind Sage • Crossroads • Devotion • Dying God • Ishtak, the Spring Maiden • Leviathan • Light of Empyrion • Mogdrogen the Wolf • Obelisk of Menhir • Oleron • Rattosh, the Veilwarden • Spear of the Heavens • Tree of Life • Ulzuin's Torch • Ultos, Shepherd of Storms • Unknown Soldier • Vire, the Stone Matron