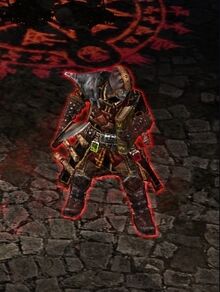 Salazar, Blade of Ch'thon, is a unique Boss found in the Depraved Sanctuary. He is accompanied by Salazar's Harbinger.
He has a chance to drop Salazar's Sovereign Blade, a rare Monster Infrequent item.
Family: Human
Genus: Bloodsworn
30 to 357 Chaos Damage
8 to 207 Poison Damage
18% Chance of 30 to 256 Vitality Retaliation
Abilities
Edit
Summon Void Abomination
Chaos Orb
3 Projectiles

12-18 to 292-382 Chaos Damage

3-7% Reduction to Enemy's Health
8 to 208 Reduced Defensive Ability for 3 seconds
Resistance
Edit
500% Reduced Knockdown Duration
32-38% Fire and Chaos Resistance
10% Pierce Resistance
12-14% Deflect Projectile
Notable Drops
Edit
Community content is available under
CC-BY-SA
unless otherwise noted.