Shattered Guardian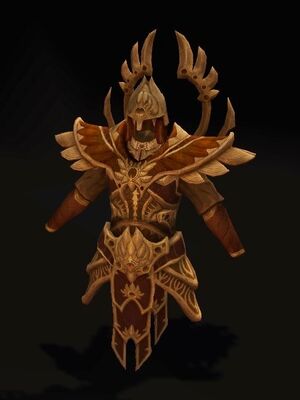 ""Guardian of a realm consumed by darkness, devoid of its patron and protector.""
Shattered Guardian is a level 94 Legendary Item Set. It can be obtained only from The Shattered Realm on Ultimate Difficulty. On reaching particular levels, Set pieces can be purchased from Ullana, Shattered Squire, the merchant in the Shattered Realm treasure room.
The armor is similar to that worn by Animated Watchers. There are also different in-game helm models for male and female characters.
| Set Piece | Shard # | Cost (Iron) |
| --- | --- | --- |
| Armor | 20 | 100,000 |
| Ward | 30 | 140,000 |
| Mantle | 45 | 100,000 |
| Mask | 60 | 100,000 |
1/4
none
2/4
+8% Health
+4 Energy Regenerated per second
3/4
30% Reduced Stun Duration
30% Reduced Freeze Duration
30% Reduced Petrify Duration
30% Slow Resistance
4/4
25% Resistance to Life Reduction
+2 to all Skills
Granted Skills


Shatterguard (Granted by Item)
Being brought low merely stokes your rage.
Activates when Health drops below 50%
12 Second Skill Recharge
3 Second Duration
Total Damage Modified by 24%
20% Damage Absorption
Constellations
Tier 1

Anvil • Empty Throne • Falcon • Hammer • Harpy • Owl • Shepherd's Crook • Toad • Wolverine

Fiend • Ghoul • Jackal • Rat • Viper • Vulture • Wretch

Akeron's Scorpion • Bat • Eye of the Guardian • Fox • Hawk • Quill • Raven • Scholar's Light • Spider

Assassin's Blade • Crane • Dryad • Lion • Panther • Stag • Tortoise

Bull • Eel • Gallows • Hound • Imp • Lizard • Sailor's Guide • Tsunami • Wraith
Tier 2
Affliction • Alladrah's Phoenix • Amatok the Spirit of Winter • Assassin • Autumn Boar • Bard's Harp • Behemoth • Berserker • Blades of Nadaan • Bysmiel's Bonds • Chariot of the Dead • Crab • Dire Bear • Harvestman's Scythe • Huntress • Hydra • Kraken • Magi • Manticore • Messenger of War • Murmur, Mistress of Rumors • Oklaine's Lantern • Revenant • Rhowan's Crown • Rhowan's Scepter • Scales of Ulcama • Shieldmaiden • Solael's Witchblade • Solemn Watcher • Staff of Rattosh • Targo the Builder • Tempest • Typhos, the Jailor of Souls • Ulo the Keeper of the Waters • Wendigo • Widow
Tier 3
Abomination • Aeon's Hourglass • Attak Seru, the Mirage • Blind Sage • Crossroads • Devotion • Dying God • Ishtak, the Spring Maiden • Leviathan • Light of Empyrion • Mogdrogen the Wolf • Obelisk of Menhir • Oleron • Rattosh, the Veilwarden • Spear of the Heavens • Tree of Life • Ulzuin's Torch • Ultos, Shepherd of Storms • Unknown Soldier • Vire, the Stone Matron