Leovinus's Ring
[
]
Hi, just wanted to let you know I got contacted that we are now in the clear to re-add the ring back onto the wiki. Thanks for getting it taken down.Omegam0 (talk) 16:28, 7 September 2019 (UTC)
Asking for assistance
[
]
Hi! Saw on community portal that you're a community administrator (and more importantly I've seen that you're very active). Could I ask you to take a look at Talk:Judgement (Skill) and Template talk:Skill/Oathkeeper? I can't solve those two questions on my own, so some assistance and input respectively would be nice. Thanks for reading! Sacropedia (talk) 16:13, 28 June 2019 (UTC)
Hi again and thanks for the help with the above! Apparently we need help from a wiki guardian over at the Community Noticeboard regarding the dialogue template proposal. Could you have a look there please? Thanks again! Sacropedia (

talk

) 14:36, 1 July 2019 (UTC)

No problem, done. Oudeis (talk) 09:10, 3 July 2019 (UTC)
1.1.7.1, 1.1.7.2
[
]
Hello, please update the main page with the info that these hotfixes have been released. Thank you. --AttemptToCallNil (talk) 23:16, 2 August 2020 (UTC)
Should the patch notes pages be renamed?
[
]
Perhaps it would be a good idea to move them to just the version number, such as "1.1.9.0"? The date is not an essential part of the page name. I'd also expect people to refer to versions by number and not release dates. The "Patch Notes" part is also somewhat extraneous, likely a remnant of back when the editors on the wiki were inserting disambiguation text in many page titles (such as "Skill Name (Skill)" or "Relic Name (relic)") even in the absence of any ambiguity. --AttemptToCallNil (talk) 13:52, 28 January 2021 (UTC)
That sounds fine to me. "Patch notes" & date could be included in the page text. Oudeis (talk) 04:52, 30 January 2021 (UTC)

I actually raised this question in yesterday's SEO session on the Fandom/Gamepedia Discord server. There's the problem moving pages is a very bad thing for search engine optimization (where the majority of the traffic to wikis comes from; I admit I initially didn't know Grim Dawn had a Gamepedia wiki because the old wiki scored higher despite being less maintained), so it's kind of unclear if moving pages is a good idea when the title is suboptimal, but not strictly wrong. Additionally, some suggestions were to use a subpage-based naming approach ("Patch notes/VersionNumber"), which, as far as I understood it, has its own user-facing and SEO benefits. I'd wait for some more details to be made available before actually performing a mass move. --AttemptToCallNil (

talk

) 07:57, 30 January 2021 (UTC)
New Wiki Representative
[
]
Hi there, I'm the new Wiki Representative for the Grim Dawn Wiki, taking over from User:Surafbrov. I hope everything is running smoothly, but feel free to ask me questions if you have any. My areas of expertise are listed on my profile. You can reach me by leaving a message on my talk page, my wall, on Discord at Moviesign#6611, or by email at Moviesign at fandom.com. Moviesign (talk) 23:36, 15 February 2021 (UTC)
Bug Fixing Push
[
]
Greetings!
I wanted to draw your attention to a 2-week quality-of-life bug fixing project we're undertaking as we work through a ton of great feedback we got about the new unified experience we unveiled at Community Connect last weekend. This work will focus on bugs which haven't risen to critical-fix levels while the engineering teams have been heads-down on the unified experience work, like features not quite working the way they're intended or the way they used to on the legacy platform.
You can read more about it in this blog, but what I'm specifically reaching out about is seeing if you have any particular bugs that are really annoying but not site-breaking and may have not been reported yet. We have an opportunity to get bugs like that triaged and incorporated into this project, so if that's the case, please send me everything you can about the bug(s), including steps to reproduce them and any other relevant information. —Moviesign (talk) 20:39, 12 March 2021 (UTC)
Invite to The Downstream
[
]
Everyone is invited, so if you're interested, I hope you can make it! See this blog post for details. —Moviesign (talk) 00:35, 27 May 2021 (UTC)
Possible Light Themes
[
]
I've been fixing up the wiki to get ready for FandomDesktop and noticed that you didn't have a light theme yet, so I whipped up a couple of examples. Which one do you like better? Of course, you can design your own if you'd rather :) —Moviesign (talk) 19:41, 28 June 2021 (UTC)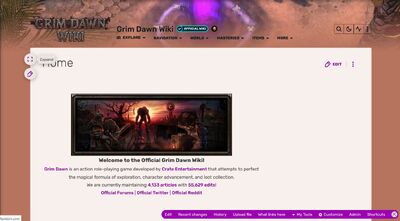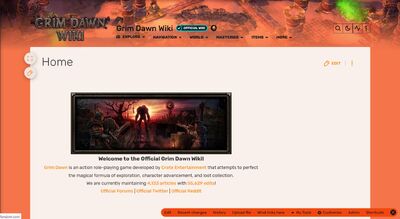 I'm not Oudeis, but I hope it's fine if I offer some feedback / thoughts as well.
Given the game's post-apocalyptic and generally dark setting, I don't think the bright oranges of the second screenshot fit. Neither do I find the purples (riftgate-based?) of the first screenshot appropriate, purple isn't really one of the primary colors in the game. However, IMO, the bleak and unsaturated orange background on the first screenshot fits better. So my suggestion for the light theme colors (based only on the picture above – if I saw more proposals, I'd have more material to derive suggestions from) would be based on dark and dim oranges, not any purples.
I did notice that in both screenshots, the non-uniform features in the background can cause some contrast issues with some elements, most notably the four buttons in the top right. --AttemptToCallNil (

talk

) 19:57, 28 June 2021 (UTC)

I just picked a couple of images that I thought would make good background headers and then picked a color from each of those to use as the "accent" color. I'm not sure how bleak we can get with a light theme and 1) still be readable and 2) not become a second dark theme, but I'll give it a try. If someone wants to suggest a color palette that would fit and still be accessible to those with impaired vision, please feel free. —Moviesign (

talk

) 14:38, 29 June 2021 (UTC)

I sombered up the light theme with less saturated colors. Please look over the wiki in both light and dark themes and let me know if there are any glaring problems. If you are satisfied with how it looks in FandomDesktop, please click the "Mark as Ready" button in the AdminDashboard. :) —Moviesign (

talk

) 17:52, 29 June 2021 (UTC)

Hi. I gave it gave it a look over and it looks good. An issue I did notice is with some table types apparently preserving the dark theme - for example on the Shrines page and Skill pages. Otherwise I'm quite satisfied. Oudeis (talk) 01:52, 4 July 2021 (UTC)