Fire Emblem Warriors: Three Hopes - The Loop
Play Sound
Wightmire is a world area in Act 1. It has a Riftgate and connects to The Old Dump, Sodden Hollow and Foggy Bank.
The area consists of a large area of marshland that lies east of Devil's Crossing.
Wightmire features a small Rover camp with several NPCs, including a merchant who will buy equipment at a higher rate than in Devil's Crossing.
Interests
[
]
Quests
[
]
NPCs
[
]
Service
[
]
Quest
[
]
Other
[
]
Creatures
[
]
Aether Crystal
Corruption
Overseer
Overmind
Walking Dead
Wretcher
Burning Dead
Plague Walker
Fury
Cold One
Rotting Soldier
Rotting Emberguard
Corpsefiend
Fleshwarped Butcher
Fleshwarped Thrasher
Deepmire Warrior
Deepmire Vanguard
Deepmire Champion
Deepmire Shaman
Deepmire Scourge-Tamer
Deepmire Evocator
Deepmire Pureblood
Mireborn Bloodgorger
Mireborn Bloodfiend
Devouring Swarm
Rifthound
Rifthound ~ Howler
Rifthound ~ Azure Matriarch
Gallery
[
]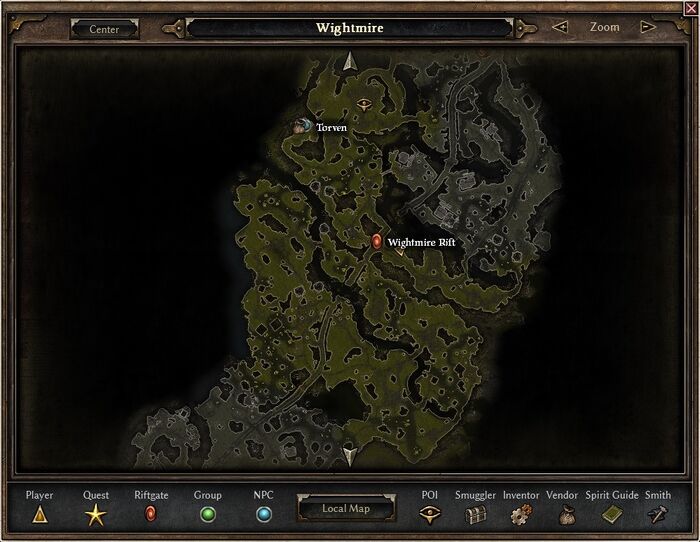 Constellations
Tier 1

Anvil • Empty Throne • Falcon • Hammer • Harpy • Owl • Shepherd's Crook • Toad • Wolverine

Fiend • Ghoul • Jackal • Rat • Viper • Vulture • Wretch

Akeron's Scorpion • Bat • Eye of the Guardian • Fox • Hawk • Quill • Raven • Scholar's Light • Spider

Assassin's Blade • Crane • Dryad • Lion • Panther • Stag • Tortoise

Bull • Eel • Gallows • Hound • Imp • Lizard • Sailor's Guide • Tsunami • Wraith
Tier 2
Affliction • Alladrah's Phoenix • Amatok the Spirit of Winter • Assassin • Autumn Boar • Bard's Harp • Behemoth • Berserker • Blades of Nadaan • Bysmiel's Bonds • Chariot of the Dead • Crab • Dire Bear • Harvestman's Scythe • Huntress • Hydra • Kraken • Magi • Manticore • Messenger of War • Murmur, Mistress of Rumors • Oklaine's Lantern • Revenant • Rhowan's Crown • Rhowan's Scepter • Scales of Ulcama • Shieldmaiden • Solael's Witchblade • Solemn Watcher • Staff of Rattosh • Targo the Builder • Tempest • Typhos, the Jailor of Souls • Ulo the Keeper of the Waters • Wendigo • Widow
Tier 3
Abomination • Aeon's Hourglass • Attak Seru, the Mirage • Blind Sage • Crossroads • Devotion • Dying God • Ishtak, the Spring Maiden • Leviathan • Light of Empyrion • Mogdrogen the Wolf • Obelisk of Menhir • Oleron • Rattosh, the Veilwarden • Spear of the Heavens • Tree of Life • Ulzuin's Torch • Ultos, Shepherd of Storms • Unknown Soldier • Vire, the Stone Matron